Theater workshop for kids
We are very happy to let you know that Mohammad Ahmadi will be able to offer workshops as part of the Hainfelder Ferienspiel. He was the project lead at the very popular and successful semester long pantomime workshop and graduation performance at the local primary school.
Mohammad is a professional actor from Afghanistan. Together with him, we conducted multiple theater performances at Comedor del Arte, for example "Alte Helden".
In the meantime, Mohammad successfully completed the training for elderly care, and he is looking forward to contributing in this capacity with his heartfelt personality.
Franz Witzmann will be his assistant at the theater workshop for kids.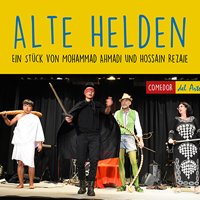 Workshop: 
Age: approx. 6-10 years old (primary school age)
Each Wednesday July 6 / 13 / 20 / 27 at 3pm-5:30 pm (approx.)
Kids can participate on all dates, or only individual dates
Project lead: Mohammad Ahmadi and Franz Witzmann
Comedor del Arte: Bahnstraße 1/G3, 3170 Hainfeld
Info (call) Franz Witzmann: 0650 / 851 0 896
Registration preferred, but not necessary
The complete program of Hainfelder Ferienspiel is here for download