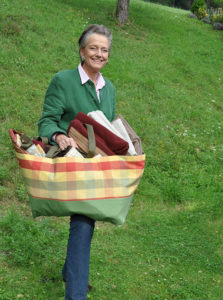 Kathrin Mayer lives in Vienna and Ramsau near Hainfeld. In 2011, she had a fantastic creative and social idea. She started to produce bags in two sizes — shopping bags and giant family sized bags — from materials that were largely donated. All bags are lined with plastic and are washable.
Part of the revenue goes to three unemployed young mothers in central Slovakia. The remaining revenue can be used for beneficial projects by the bag sellers, who are all organizers of various charity events.
Kathrin Mayer will be conducting a workshop, explaining the productions of the bags, through the Comedor del Arte. The workshop will take place at Naehcafe WasIhrWollt in Hainfeld on Saturday, August 27, from 1pm to 5pm. The Naehcafe owner will be available as well for explanations and help as needed.
Still needed:
Any left over curtain and furniture fabrics, we are happy to pick it up.
Donations of fabrics, and sign up for the workshop, please contact: Alexandra Eichenauer-Knoll: 0664 / 1026798