We go on singing!
On january, 26 we met for the first time in order to sing.  We enjoyed it very much and so we decided to meet again. Besides, the Austrians learnt some words in ukrainian language.
Next singing circle: Thursday, not yet decided, at 6 p.m.
Place: Comedor del Arte, Bahnstraße 1/G3, Hainfeld
Leader: Alexandra Eichenauer-Knoll
Literature: easy songs, canons
If you are interested, please contact Alexandra: 0664 /1026798
This initiative startet with the story Weihnachtsgeschichte, which Alexandra has written by the end of 2022 for our Blog. (Unfortunately the text is availabe only in German.) To put it in an nutshell: We invite especially Ukrainian people living in Hainfeld and of course all our Austrian friends.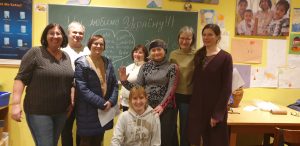 The foto was done on march, 2 in the Comedor del Arte. On this day five Ukrainian people and four Austrians met there for singing. We also tried the famous song  "Oi u luzi tschervona kalyna pokhylylasia", as a symbol of solidarity with the Ukraine and the Ukrainian people.